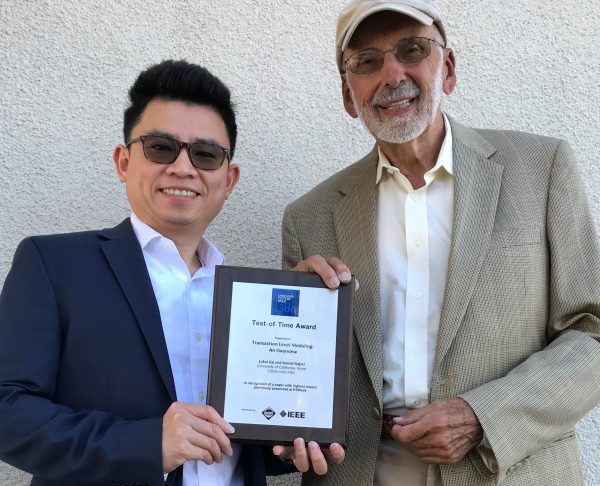 Daniel Gajski (Prof. Emeritus) and Lukai Cai (former PhD student, now at Qualcomm, San Diego) have been awarded the Embedded Systems Week (ESWEEK) Test of Time Award 2019 for their paper, "Transaction Level Modeling: An Overview", which was originally published at the International Conference on Hardware/Software Codesign and System Synthesis (CODES+ISSS) in 2003.
With more than 40 years of intensive engagement in industry and academia and considered on of the founding fathers of new design methods with higher reach towards an upwards degree of abstraction, Daniel Gajski has been a leader in establishing the fields of silicon compilation, high-level synthesis and system-level design.
This award is in recognition of a paper which has defined a new era in embedded computer system design and is now, 16 years later, honored because it has passed the test of time. In the year 2000, Daniel Gajski's research group created the concept of Transaction Level Modeling by applying the SpecC methodology used in their "Transaction Level Modeling: An Overview". This paper marks the milestone of a novel taxonomy where communication and computation are separated in the modeling, validation, refinement, exploration and synthesis of embedded computer systems. Today, these principles in use throughout national and international academia and industry, proving the substantial impact their work has created.
Prof. Juergen Teich, who led the award ceremony together with Prof. Petru Eles (General Chair) in New York on October 16, emphasized, "For the first year, ESWEEK is honoring the authors of one paper with highest impact published at a previous CODES+ISSS, CASES and EMSOFT conference at ESWEEK with a Test-of-Time Award."
We are proud to see Daniel Gajski and Lukai Cai's paper receiving this exceptional award.