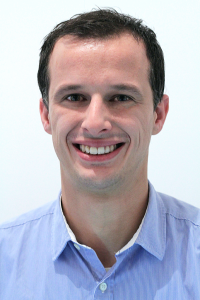 Title: "Self-Organizing Embedded Cameras: Staying Smart in a Chaotic World"
Speaker: Dr. Lukas Esterle, The Aston Lab for Intelligent Collective Engineering (ALICE), Aston University, Birmingham, UK
Date and Time: Wednesday, September 27, 2017 at 3:00PM-4:00PM
Location: DBH 3011
Abstract:  Within the last fifteen years,  "dumb" cameras have evolved into embedded smart cameras, combining a processing unit, image sensor, and communication interface on a single platform.  These processing capabilities, even though limited, allow the smart cameras to pre-process video data on-site and transmit only aggregated information, or a complete analysis of a scene, instead of plain images.  Connecting single smart cameras in visual sensor networks allows us to perform various tasks in a distributed fashion.
In this talk, we will explore two different application areas, namely autonomous distributed tracking of objects and geometric coverage maximization in networks.  Defining the individual task for each camera of the network may not be feasible without having explicit knowledge of the environment and the observed scenario.  This requires the network and its individual components to organize themselves in order to achieve their common goal faster and./or with a better performance.  We will discuss the benefits and challenges of self-organizing approaches in comparison to centralized techniques and compare the performances of both methods in both application areas.  The facous in this talk is not on computer vision aspects but rather on the self-organizing behavior of individual devices to allow for coordination without central components.
Short Biography: Lukas Esterle finished his PhD with distinction at the Alpen-Adria University in Klagenfurt in 2014 under the guidance of Prof. Rinner. His thesis introduced autonomous distributed tracking in smart camera networks and analysed self-organizing behaviour to increase the performance online. He worked as a postdoctoral assistant at the Vienna University of Technology in the Cyber-physical systems group of Prof. Grosu from 2015. Early 2017 he joined the the Aston Lab for Intelligent Collective Engineering (ALICE) at Aston University in the UK as a Marie-Sklodowska-Curie Research Fellow funded by the European Union under the H2020 funding scheme. He wrote various journal articles and numerous conference papers. He acquired funding for projects from the European Commission as well as Austrian National funding agencies.